Webb's wet Frustration
Posted on in Latest News
Webb's wet Frustration
The Knutsford ace got his first taste of wet conditions in the second set of official World Series by Renault Tests at Barcelona on Tuesday and Wednesday 15th-16th March 2011. The rain first wasn't threatening to the vast plans of set up changes the Pons team and Oli wanted to go through, however once midday struck on the first day of collective tests, the sky went black. A large storm then came over the Cataluynia track, causing a monsoon of rain that cancelled the session for a few hours. Thunder and lightning struck for around an hour before the sky's cleared enough for Renault sport to allow the grid to continue with their testing programmes.
Each team had an allocation of 2 new 2011 compound tyres, which as the Barcelona based Pons team and Oli were about to find out, where very soft. Many people where struggling with the lack of laps they were able to do before the tyres where either overheating or had gone past their peak. Webb found out the hard way, choosing a bad time to go out on new tyres just as the rain came down on his out lap, as the weather was so interchanging and in consistent there was no way of telling. The experience and quick thinking of the red bull backed driver Ricciardo meant he was able to put in a quick time before the hard rain came, leaving a big gap to P2 and leaving Webb in P10 out of the 28 car grid.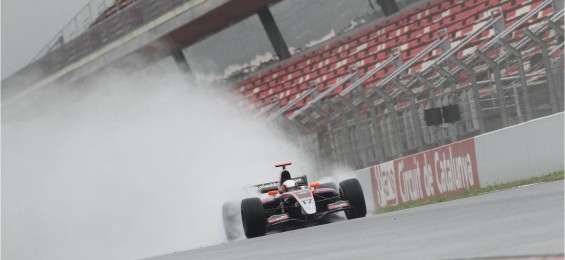 On day 2 of the official tests, the story was the same with everyone waking up to more rain, however this time clear sky's appeared, a hope for maybe dry weather at the back end of the day. And this is exactly what happened, a sudden brake before lunch of dry spells saw Webb shoot up the leader board to P1, he then had to fuel and was pipped to P3, then…rain! It became the common thing for the rest of the day for the rain to come and go, the track didn't see a dry spell again until 2pm when there was exactly 1hour of dry track time, Webb went straight to P1 again. All was going well till once again the MSA Elite driver had to pit for more fuel, many changes where then made for the new tyre run that everyone would rush to do before it rained, Webb had to sit and painfully watch himself fall to P10 as people used their new tyres, then when it was the Knutsford drivers turn, he managed 1.5laps before the rain caught up, some really bad luck. This then meant the end of the day effectively as heavy storms of rain covered the track for hours to come.