Webb visits Lotus Renault GP Formula 1 factory
Posted on in Latest News
Webb visits Lotus Renault GP Formula 1 factory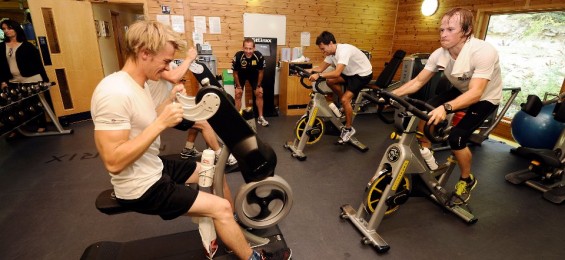 Following his rookie podium finish at his home round of World Series by Renault, British racing driver Oli Webb visited the home of the Lotus Renault GP Formula 1 team last week.
During the two day visit Webb, along with a number of fellow racers from the World Series by Renault championship, had the opportunity to tour the high-tech facility in Enstone, Oxfordshire.   The visit gave an insight into the various areas that go into developing and running a competitive Formula 1 team, from engineering to media relations. 
Alongside having talks with members of the aerodynamics, CFD (computational fluid dynamics) and engineering departments, one of the highlights was meeting Team Principal & Managing Director, Eric Boullier. He was on hand to answer questions giving the young drivers some insight into the world of the Lotus Renault GP team and what it takes to reach the pinnacle of motorsport.
During the visit, 20-year old Webb had the opportunity to work closely with the team's fitness trainers, experiencing the high-intensity BATAK reaction trainer used by the drivers and undertook a series of body composite and BMI checks.
As part of the busy two day schedule, Webb also received some valuable media training from highly-regarded motorsport presenter Louise Goodman and had the opportunity to discuss strategies with the race engineers before getting behind the wheel of one of the team's race simulators.  The MSA Elite driver also met Bruno Senna ahead of his race debut for the team at the Belgian Grand Prix.
BRDC Superstar driver Webb commented: 'It was a great privilege to visit the Lotus Renault Formula 1 team to see how things operate behind the scenes and the efforts that go into making sure both the car and driver are at peak performance for each race. The hard work and dedication is clear to see throughout the team, and it was really great to be fortunate enough to get the chance to get advice which will help my career. I also gained some valuable feedback on specific areas which directly relate to my own fitness and will help me when I'm preparing for future races.'
He continued: 'Formula 1 has always been my goal, and seeing the Lotus Renault operation in action, both at the track and back at the factory, has reinforced the desire to reach my goal.'
Webb's rookie World Series by Renault season continues with Round Eight which takes place 16-18 September at Paul Ricard HTTT.
For more information on Oliver Webb, and to track his progress throughout the season, visit http://www.oliwebbracing.com/ or follow him on twitter, www.twitter.com/oliverjameswebb