Webb to thrill the crowds on both sides of the Atlantic in 2012
Posted on in Latest News
2 February 2012
Webb to thrill the crowds on both sides of the Atlantic in 2012
Ahead of making his full season debut in the Firestone Indy Lights Championship, British racing driver Oliver Webb has confirmed that he will continue his involvement with supercar manufacturer BAC, including demonstrating Mono at both the Cholmondeley Pageant of Power (15-17 June) and the Goodwood Festival of Speed (28 June-1 July).
Webb, a member of the prestigious MSA Elite Team UK, has been involved with BAC as test driver throughout the development of the 280 bhp single-seat Mono and he will return to the Pageant of Power after an impressive show last year, where he was among the top runners. He will also make his debut on the famous Hill route at the Goodwood Festival of Speed, which will again see some of the greatest names in motorsport behind the wheels of a wide variety of modern and historic supercars and racing cars, from around the world.
Alongside these commitments in the UK, 20-year old BRDC Superstar Webb has now settled in the USA with the Sam Schmidt Motorsport (SSM) team in preparation for the first race of the 2012 Firestone Indy Lights Championship which will be on the streets of St. Petersburg, Florida over the weekend of 24-25 March. Prior to this, Webb will undertake a busy test schedule with his Lucas Oils-sponsored racer throughout the next month.  The eight-date testing programme gets underway at the Firebird International Raceway, Arizona, before visiting MSR Houston, Sebring and finally the Homestead Miami Speedway.
Commenting on his on-going work with the BAC Mono, Webb explained: 'It has been a really great experience working with the team at BAC, and being involved with the testing of the Mono throughout the various stages of development. It will be fantastic to demonstrate the car over the summer, and it's a real honour to return to the Pageant of Power and to have the opportunity to take part in the Goodwood Festival of Speed alongside some of motorsport's greatest names.'
On the preparations and prospects for the new season, Webb continued:  'The 2012 season is already shaping up to be really exciting and probably my busiest to date. I have worked hard on my fitness over the winter break and I am really looking forward to getting back out on track this month, and getting up to speed with the team as quickly as possible. The test programme is quite intense, but it is great opportunity to get fully prepared ahead of the first race.'
Full 2012 Firestone Indy Lights race calendar:
24-25 March                   Streets of St Petersburg (1.8-mile / street course)
31 March-1 April  Barber Motorsports Park (2.3-mile / road course)
14-15 April                     Streets of Long Beach (1.968-mile / street course)
25 May                          Indianapolis Motor Speedway (2.5-mile / oval)
2-3 June                        Raceway at Belle Isle Park (2.1-mile / street course)
23-24 June                     Iowa Speedway (0.875-mile / oval)
7-8 July             Streets of Toronto (1.755-mile / street course)
21-22July                      Edmonton City Centre Airport (1.973-mile / airport course)
5 August                        Streets of Trois-Rivieres, Quebec (1.521-mile / street course)
1-2 September                Streets of Baltimore (2.0-mile / street course)
15 September                 Auto Club Speedway (2.0-mile / oval)
One event TBA which should run alongside the 16th IndyCar event.
For information on Oliver Webb, visit http://www.oliwebbracing.com/ or follow him on twitter, www.twitter.com/oliverjameswebb.
Visit http://www.indycar.com/indylights/ for additional information on the Firestone Indy Lights Championship.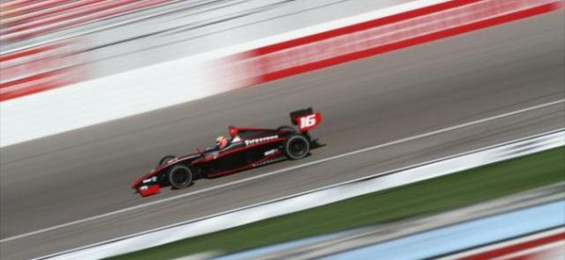 Further information regarding the BAC Mono, which most recently claimed the accolade of 'Stig's Car of the Year' for 2011 in the BBC Top Gear Awards, can be found at www.bac-mono.com.