Webb to bring the magic of Formula 1 to Bolton Motorsport Festival
Posted on in Latest News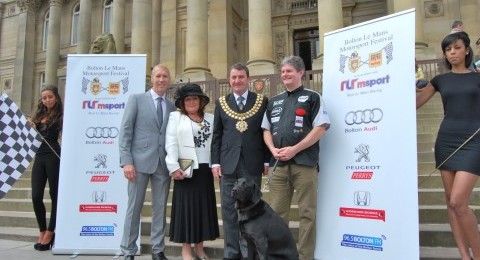 8 June 2011
Webb to bring the magic of Formula 1 to Bolton Motorsport Festival
Fresh from his debut outing on the streets of Monaco in the World Series by Renault, British racing driver Oliver Webb will be making an appearance alongside the 2011 Lotus Renault Formula 1 car and race simulator at the Le Mans Motorsport Festival in Bolton this weekend, 11-12 June.
Currently competing in his rookie World Series by Renault season, 19-year old Superstar BRDC driver Oliver Webb will be at the opening of the Formula 1 stand which will be displaying the gold and black-liveried Lotus Renault race car.  Visitors to the stand will also have a chance to test their racing skills against Webb on the race simulator around Britain's Formula 1 circuit, Silverstone, which will play host to this year's British Grand Prix on 8-9 July.
The Lancashire town of Bolton is twinned with the French town of Le Mans, home to the legendary 24-hour race which takes place this weekend, and the Le Mans Motorsport Festival is a celebration of this link, of the race and of all things motorsport. 
The show will be formally opened by the town's mayor, Noel Spencer MBE, and over the course of the two days, visitors will be able to see and experience many of the different championships and forms of motorsport from around the world including Formula 1, the World Rally Championship and British Touring Car Championship, as well as a wide range of supercars and classics.
For more information about this weekend's Bolton Le Mans Motorsport Festival, visit www.boltonlemansmotorsport.com
Webb returns to the World Series by Renault grid on 18-19 June as the championship visits the Nürburgring, Germany for Round Five.
For more information on Oliver Webb, and to track his progress throughout the season, visit http://www.oliwebbracing.com/ or follow him on twitter, www.twitter.com/oliverjameswebb