Webb signs with Signatech-Alpine for 2014 ELMS
Posted on in Latest News
Oliver Webb signs as works driver with Signatech-Alpine for assault on the 2014 European Endurance Championship
After a successful 2013 season, British racing driver Oliver Webb has been confirmed with the Signatech-Alpine team, contesting the European Endurance Championship (ELMS) in 2014. This announcement sees Webb join the reigning ELMS champions, with him competing in his debut 24 Hours of Le Mans as part of the season's calendar. Webb joins the Signatech-Alpine team as a works driver, sharing the cockpit of the Nissan-powered Alpine A450 LM P2 prototype with Nelson Panciatici and Paul-Loup Chatin for the assault on the 2014 season.
The Alpine name returned to sportscar racing during 2013, 35 years after claiming victory at the 24 Hours of Le Mans, and the Signatech-Alpine team secured three podium finishes and victory during its debut season to claim the European Endurance Championship title.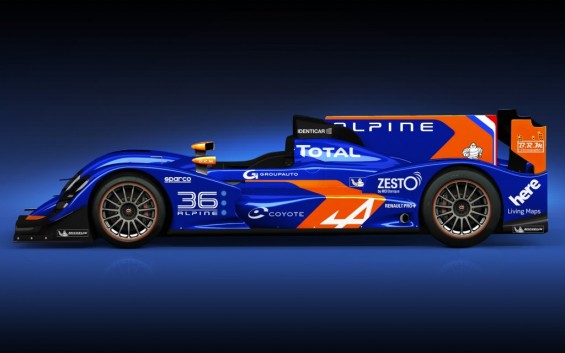 Commenting on the announcement, Webb explained: 'I am so happy to confirm I will be driving for Signatech Alpine Renault in the 2014 ELMS championship, which will include racing the 24 Hours of Le Mans. To get a works drive with a team that left prototype racing with a championship win, and then returned all these years later to claim another title in the first year back makes me very proud to become part of the family. Moving from single seaters will be a challenge, and is a new direction for my career, but it is an exciting one. After my experience of racing at the Daytona 24 Hours, and experiencing prototype racing, I fell in love with every aspect, and I cannot wait to start this new adventure.'
The first activities for the season will see Webb testing with the team next week, followed by the official ELMS testing at the Paul Ricard circuit in France (1-2 April), ahead of Webb's home race, the opening round at Silverstone, UK 19 April).
2014 European Endurance Championship
Official tests – Paul Ricard, France 1-2 April
Silverstone, UK 19 April
Imola, Italy (tbc) 11 May
Red Bull Ring, Austria 20 July
Paul Ricard, France 14 September
Estoril, Portugal 12 October
For information on Oliver Webb, visit www.oliwebbracing.com or follow him on twitter, www.twitter.com/oliverjameswebb.