Webb signs with Fortec Motorsports for 2013 World Series by Renault FR3.5 Championship
Posted on in Latest News
27 December 2012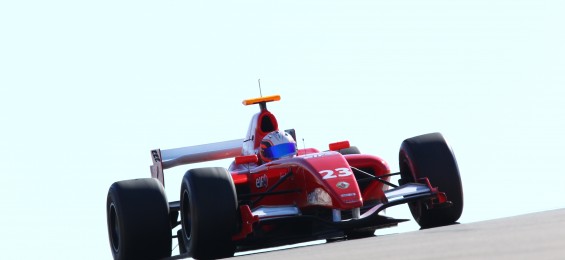 Webb signs with Fortec Motorsports for 2013 World Series by Renault FR3.5 Championship
British racing driver Oliver Webb has today confirmed his plans for the 2013 season, announcing that he will join Fortec Motorsports to compete in the World Series by Renault FR3.5 championship. BRDC Superstar driver Webb joins 2012 Formula Renault 2.0 Eurocup champion, Belgian Stoffel Vandoorne, to complete a competitive driver pairing for the British-based team.
Cheshire-born Webb has a strong relationship with Fortec Motorsports having spent two successful seasons contesting in the Formula Renault championship in 2008 and 2009, before remaining with the team to progress to British Formula 3 in 2010. The 2010 season with Fortec saw the former MSA Team UK driver and current BRDC member claim three wins, 14 podiums, and eight fastest laps en route to finishing third in the championship behind current Formula 1T driver Jean-Eric Vergne.
The announcement marks a return to European racing for the 21-year British driver, and a second season in the competitive World Series by Renault FR3.5 championship having contested the 2011 season. 2012 saw a move across to the United States, and an impressive rookie campaign racing in the Firestone IndyLights Series with Sam Schmidt Motorsports (SSM), finishing seventh in the drivers' championship and claiming the team's 50th pole position in Detroit.
Commenting on his return to Fortec for the 2013 season, Oliver Webb explained: "I couldn't be happier to be coming back to Fortec after having completed two seasons in Formula Renault and a season in Formula 3 very successfully with the team. We were speaking to a variety of championships and teams for the 2013 season but, when the opportunity arose with Fortec, it was a clear decision. I'm really looking forward to pushing hard in a great championship with a strong teammate and, of course, with a championship-winning team – a recipe for success. What a Christmas!"
Richard Dutton, Fortec Motorsports Team Owner, added: "Oliver is a great driver and I'm really pleased to have him back in the team. We have a great relationship with him, and we've really seen him grow through the years, and he is an incredibly talented driver. We had a fantastic season in the FR3.5 during 2012, and we want to regain our championship title; with Stoffel and Oliver on the team I believe we will be top contenders again for 2013."
Following the conclusion of the 2012 Firestone IndyLights season, Webb has returned to the UK for an intensive winter training schedule, and has also continued his role of test driver with British car manufacturer BAC. This role has seen Webb take part in events throughout 2012 showcasing the single-seat Mono sports car, including at the Goodwood Festival of Speed, CarFest and Cholmondeley Pageant of Power.
For further information about Oliver Webb, visit http://www.oliwebbracing.com/ or follow him on twitter, www.twitter.com/oliverjameswebb"