Webb shows pace in first ever USCC Daytona Rolex 24
Posted on in Latest News
Webb shows pace in first ever USCC Daytona Rolex 24
DAYTONA BEACH, Fla. (January 26, 2014) – The No. 42 OAK Racing Morgan-Nissan LPM2 team, led by Oliver Webb, Olivier Pla, Roman Rusinov and Gustavo Yacaman, finished eighth in this weekend's Rolex 24 at Daytona. They were able to battle back to the impressive top-10 finish, following alternator trouble just four and a half hours into the race.
"The team did very well, but it is a shame that the alternator failed," said Webb. "However, we fell down to 58th and finished eighth, so it was a great comeback. OAK Racing has a lot of experience and has won the 24 Hours of Le Mans and championships before with this car. Compared to some of the other cars out there at the end of the race, ours looks brand new so they really did a good job."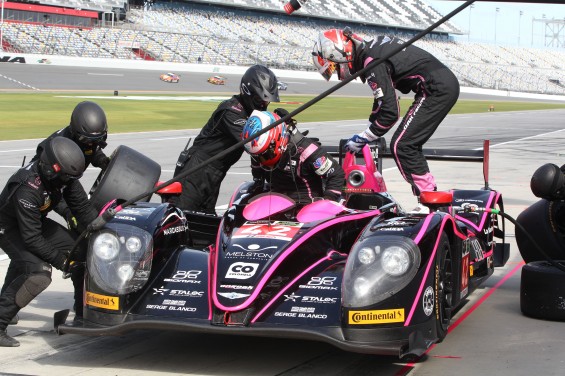 After starting 23rd, the team was able to quickly advance within the top-10. Webb was the third driver to hop in the car for his first stint. The No. 42 machine progressed to third just four hours into the race and Webb was able to maintain that position during his triple stint.
"Once we were comfortable with the car, we started lapping and did well," added Webb. "During my triple stint in the early morning, I was able to maintain P3 the whole time and even get up to second prior to our pit stop, which was good because we were battling with people like Scott Dixon that are obviously well respected and quick in those Daytona Prototype cars."
At roughly 7:35pm, the car suffered from a failing alternator and was taken to the garage for repairs. Just 30 minutes later, the crew had the car back out on the track. After returning to the race in the 58th position and 16 laps down, the drivers and crew worked diligently to gain back some of their track position.
"It was a shame to be running within the top three and hear the news on the radio that we had a failing alternator," added Webb. "I came in for a routine pit stop and heard the crew say there would be a driver change, but that there was an alternator failure as well. It hadn't quite failed yet, but it wasn't charging properly, so they wanted to change it so we didn't stop on track. The car had the pace and we should have remained on the lead lap throughout the race. We were struggling for first and second, but for sure third, fourth and fifth were a good possibility. It's too bad that was the case, but that's what happens in these long races."
Many factors came into play during the 24 hour endurance race. However, Webb had recent experience behind the wheel that prepared him even greater for this weekend.
"I raced in the Dubai 24 Hours only about one month ago and that is similar to the conditions here," said Webb. "It was about 70 cars that included mini's and GT cars, so about the same as DP's and GT cars in terms of difference. Prior to that, I had only done Formula Three, World Series and Indy Lights. Endurance is a bit different. You can't be qualifying every lap like you are in a single-seater car, so it is a big team effort."
During the final few hours of the Rolex 24 at Daytona, Webb's teammates were able to compete consistently within the top-10. With immense history surrounding this historical event, the No. 42 OAK Racing team gave their all and added a great battle to the inaugural Tudor United SportsCar Championship.
For more information, visit www.oliwebbracing.com and www.oak-racing.com.