Webb shows impressive form around the streets of St Petersburg
Posted on in Latest News
Webb shows impressive form around the streets of St Petersburg
Series:            Firestone Indy Lights Championship
Track:              Streets of St Petersburg, Florida
Track length:   1.8 mile (2.897 km)
Date:                24 March 2012
Qualifying:       Pos. 3;  Time: 1m06.6370s;  + 0.1820s
Race:               Pos. 4;  45 laps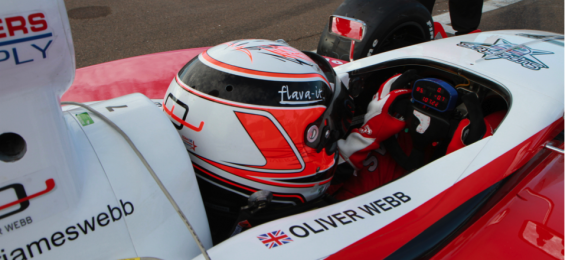 British rookie, Oliver Webb, has made a strong start to the season at the opening round of the 2012 Firestone Indy Lights Championship on the streets of St Petersburg. In his first competitive outing with Sam Schmidt Motorsport (SSM), the young Brit crossed the line in fourth place to complete a successful weekend for the team, with all four cars finishing in the top five.
Continuing to show the performance that was clear during pre-season testing, Webb topped the timesheets throughout much of qualifying; consistently improving his times throughout the session at the wheel of the Lucas Oil-sponsored number 7 car. Teammate Tristain Vautier, competing in his first race in the Indy lights championship, moved ahead of Webb shortly before a brief red flag period near the end of the session. Following this, a burst of track activity saw Webb post his quickest time of the day with a 1m 06.637s, but he was narrowly beaten to a front-row grid slot by fellow teammate Esteban Guerrieri. Victor Carbone completed a dominant session for the Indianapolis-based team, lining up fifth.
BRDC Superstar Webb, who celebrated his 21st birthday earlier in the week, made a strong start to the race, maintaining third position. From here, Webb continued to pressure Esteban his team mate for 2nd place for the first parts of the race.
The 45 lap race was interrupted by four cautions, and it was on the restart following one of these periods that former IZOD IndyCar driver Sebastian Saavedra was able to take the final podium position from Webb, who was struggling with a problem on the restart. Despite this, the Cheshire born driver continued to post competitive laptimes, looking to retake this position. At the chequered flag, Tristain Vautier claimed a victory on his debut, followed closely by Esteban Guerrieri, Webb crossed the line in fourth place and Victor Carbone secured the final top five spot.
Commenting on his season debut, Webb explained: 'We showed some real promise in qualifying, and the car felt well balanced and we definitely had the pace. I am disappointed that we couldn't manage a podium in the race, but to have all four cars finish in the top five in such a strong field, is a great result for the team.'
He continued: 'Having such experienced and competitive teammates is a real benefit, as we all push each other to perform. We now travel back to the track at Barber, where we performed well in the final pre-season test session, and we will be pushing hard aiming to be on the podium.'
The Firestone Indy Lights Championship heads straight to the 2.3-mile road course of Barber Motorsports Park in Birmingham, Alabama for Round 2, which takes place on Sunday, 1 April.
Log on to http://www.indycar.com/indylights/ for additional details about the Championship or, for information on Oliver Webb, visit http://www.oliwebbracing.com/ or follow him on twitter, www.twitter.com/oliverjameswebb.