Webb secures a top five finish on the streets of Toronto
Posted on in Latest News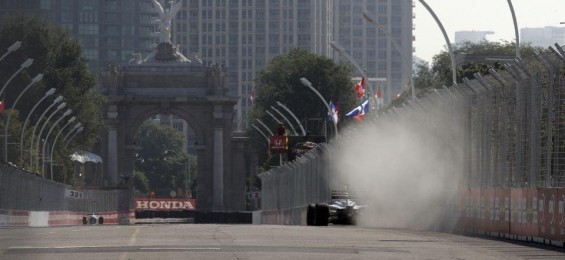 Webb secures a top five finish on the streets of Toronto
Series:                   Firestone Indy Lights Championship
Track:                    Streets of Toronto, Ontario
Track length:      1.755 mile (2.824 km)
Date:                     8 July 2012
Qualifying:          Pos. 5;  Time: 1m21.5316s;  + 1.3034s
Race:                     Pos. 5;  + 25.9034s;  50 laps
British racing driver Oliver Webb travelled to Canada this weekend, 6-8 July, looking to continue the strong start to the 2012 Firestone Indy Lights championship as Round Seven visited the Streets of Toronto. The young rookie scored more valuable championship points as he claimed a hard-fought fifth place.
This was Webb's first experience of the tricky street-circuit, and changes to the layout since last year gave the track severely reduced levels of grip in places. However, the BRDC Superstar driver's weekend started well, as he posted times solidly in the top five during the dry first practice session despite being the only one of the front runners on old tyres.
Rain during Saturday morning added an extra challenge to proceedings but, again, Webb took this in his stride and showed his true adaptability to changing conditions. The 21-year old showed competitive pace throughout the session, running as high as P2 until the closing stages. However, Webb was unable to improve his time after a yellow flag caution compromised his final run, along with teammate Tristan Vautier, and as the clock ran out Webb had slipped down the order, and would start the race in P5.
There was no sign of rain as Webb lined up on the inside of row three for the weekend's race, and he wasted no time making his mark on the opening lap. A bold move into Turn 1 secured fourth place, and a clean exit saw the young Brit challenge for, and claim, third as he entered the hairpin at Turn 3. A coming together of Sam Schmidt Motorsport (SSM) teammates, Esteban Guerrieri and Tristan Vautier, forced Webb to take action and, after passing Guerrieri cleanly, he suffered damage to his front wing when Gustavo Yacaman narrowly avoided Vautier, who had spun as he made his way back to the pits.
The damage to Webb's front wing saw him lose four places but he quickly got back up to speed, and set his sights on making up the lost ground on his opponents. A string of consistently competitive lap times saw the gap reduce lap on lap and, after cleanly passing David Ostella for fifth position, Webb quickly closed down Canadian Peter Dempsey, relentlessly pushing for a way back up into fourth place. Despite having a much quicker car, and with repeated efforts to move forward, the damage to his front wing compromised the handling and braking of Webb's Lucas-Oils sponsored racer, and he was unable to find a way past. The battle continued until the chequered flag, but Webb was unable to make a move stick, and crossed the line fifth.
Talking about his experience around the streets of Toronto, Webb explained: 'This was a very special weekend for me, as it was three years ago to the day since I first met Sam (Schmidt), and we started discussions about me moving over to race in the US. Overall, I am pleased with the fifth place finish here, although it is frustrating that we couldn't find a way back up to a podium position. The car felt competitive all weekend, and we were unlucky to pick up damage early on, which compromised the handling for the remainder of the race.'
Webb continued: 'I am really looking forward to the next race of the season, as we head over to Edmonton. This is the first circuit of the season that I have previously raced on, so I am feeling confident and hope I can repeat the podium finish I scored there on my Indy Lights debut last year.'
The Firestone Indy Lights Championship remains in Canada for Round Eight, around the Edmonton City Centre Airport circuit, over the weekend 21-22 July.
Log on to  http://www.indycar.com/indylights/ for additional details about the Championship. For information on Oliver Webb, visit http://www.oliwebbracing.com/ or follow him on twitter, www.twitter.com/oliverjameswebb.