Webb prepares for the 2012 Firestone Indy Lights season finale
Posted on in Latest News
12 September 2012
Webb prepares for the 2012 Firestone Indy Lights season finale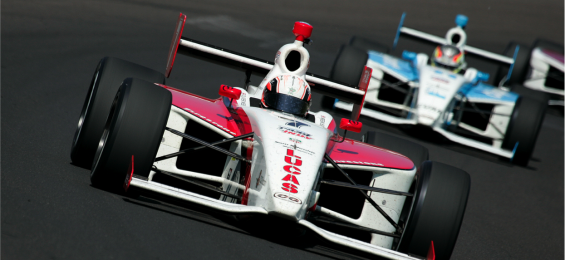 Series:                         Firestone Indy Lights Championship
Track:                           Auto Club Speedway, Fontana
Track length:              2.00 mi (3.22 km)
Date:                            14-15 September 2012
British racer Oli Webb is preparing for the final round of the 2012 Firestone Indy Lights season which takes place this weekend, 14-15 September at the Auto Club Speedway in Fontana, California. The 21-year is looking to continue the form that he has shown over the last few rounds with another strong points finish, and end his rookie season on a high.
Since the last round in Baltimore, where the young Brit finished sixth, Webb has been working hard with the team at Sam Schmidt Motorsports to ensure they are as well prepared for the final competitive outing of the year as possible. Webb will be back behind the wheel of the red Lucas Oils car which he raced in the Indianapolis Freedom 100 earlier in the season.
Currently seventh in the championship standings, and third-best rookie, Webb is looking forward to the final event of the season, and returning to an oval track. He explained: 'It has been a good season so far and promising for the future, I am really looking forward to the final race at the Auto Club Speedway. One of the biggest challenges I have faced this year is racing on oval tracks, which is a completely new experience, but I have really enjoyed it and I cannot wait to get out on track this weekend. I am really hoping to improve on recent results, and would like to finish the season at least on the podium'
The two-mile banked oval at Auto Club Speedway in Fontana, California presents its own unique set of challenges. The bumpy track surface that has changed over the last 5 years since either series raced at the track will put a huge strain on the drivers, with the cars travelling at up to 190mph+ . With temperatures in Fontana expected to be in excess of 100 degrees over the weekend, it is also sure to be highly demanding physically.
Webb will return to the UK following the race weekend and will continue his testing role with the BAC Mono single-seat sportscar over the coming months both in media rolls and testing. He will also be showcasing the British built Mono at the Wilmslow Motor Show on 22 September where Oliver will be a valuable ambassador for the North West and its Motorsport sector.
The 2012 Firestone Indy Lights championship concludes at the Auto Club Speedway oval circuit in Fontana, California this weekend, 14-15 September.
Log on to  http://www.indycar.com/indylights/ for additional details about the Championship. For information on Oliver Webb, visit http://www.oliwebbracing.com/ or follow him on twitter, www.twitter.com/oliverjameswebb.