Webb prepares for his competitive debut at the Brickyard
Posted on in Latest News
Webb prepares for his competitive debut at the Brickyard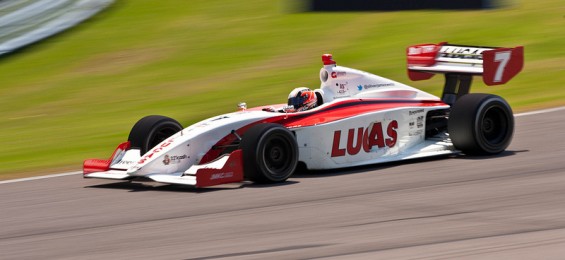 British rookie Oliver Webb is preparing ahead of the next Indy Lights Championship event, the Freedom 100, which takes pace this weekend, 25 May, as part of the Indy 500 weekend programme at the Indianapolis Motor Speedway.
Webb is looking to build on the strong points finish from his last Indy Lights outing in Long Beach, where he finished sixth.  The Freedom 100 is the fourth race of the season, and is the home race for the Indianapolis-based Sam Schmidt Motorsport (SSM) team. The race takes place on the 2.5-mile oval, nicknamed 'The Brickyard', and covers a distance of 100 miles. The circuit consists of two mile-long straights which will see the cars three-abreast as they approach the corners at speeds close to 200mph.
In the preparations for the weekend's events, Webb has taken the opportunity to spend time with the various teams and drivers from the 2012 IZOD IndyCar grid, including SSM's French driver Simon Pagenaud, to further his knowledge and skills for racing on such a demanding circuit.
Webb explained: 'The Freedom 100 is going to be an amazing event. Driving at speeds up to 200mph around such an iconic circuit will be a fantastic experience, and it is great to be on the programme with the Indy 500 – one of the most famous races in the motorsport calendar – and seeing familiar faces from the world of Indy Lights in the thick of the action.'
The Indy Lights championship is a successful proving ground, with drivers past and present showing competitive form heading into next weekend's Indy 500. The 2011 Indy Lights champion, Josef Newgarden, 2010 championship runner-up and former-SSM driver James Hinchcliffe, and Sebastian Saavedra, who currently leads the Indy Lights championship, have each been quickest in the opening three official Indy 500 tests.
Earlier this month, BRDC Superstar Webb took part in a test at the legendary oval track, working with the SSM team on the driving techniques needed on an oval circuit.  The successful test saw the 21-year old Brit finish the session in fifth place overall, so confidence is high heading into the weekend's race.
Webb continued: 'I have worked with the team and looked to more experienced drivers from Indy Lights and IndyCar to fully understand the techniques for oval racing, and it will be a real test on Friday, but the car felt strong during the test and I can only imagine what the atmosphere will be like at the circuit with 450,000 people watching!'
Log on to http://www.indycar.com/indylights/ for additional details about the Championship or, for information on Oliver Webb, visit http://www.oliwebbracing.com/ or follow him on twitter, www.twitter.com/oliverjameswebb.