Webb prepares for a final push ahead of Firestone Indy Lights season opener
Posted on in Latest News
Webb prepares for a final push ahead of Firestone Indy Lights season opener
With just over a week to go before the first round of the 2012 Firestone Indy Lights Championship, British racing driver Oliver Webb is preparing for the final pre-season test session. Webb, who is now based in Indianapolis following his move from the UK at the end of last year, will travel to the two-day test at the Barber Motorsports Park, Alabama, for the final test, before the lights go green on the new season on the streets of St Petersburg in Florida, over the weekend, 24-25 March..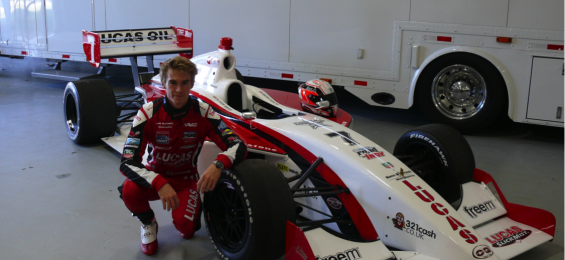 The young Brit, who turns 21 just before the season kicks off, has completed a comprehensive testing schedule since signing with Sam Schmidt Motorsport (SSM) over the winter. The BRDC Superstar hopes to prolong these birthday celebrations, and goes into his first full Indy Lights season feeling confident following his impressive performances last year.
Commenting ahead of the final test, Webb explained: 'I am really pleased with the progress and results we have seen in testing so far, and we will look to maximise the opportunity we have at this final pre-season test. To date, we have been looking pretty strong, and with such a competitive line-up alongside me in the team, who are as driven to succeed as I am, we will all push each other to the maximum.'
Webb, will race in the Lucas Oils sponsored racer, and is joined at SSM by Esteban Guerrieri , a late entry to the team with a strong CV from F3, Worldseries by Renault 3.5 and 2nd in Firestone indylighs with SSM last year 2011, also joining them is Tristan Vautier (France), champion of the 2011 Star Mazda Championship presented by Goodyear, and Victor Carbone (Brazil) who returns to the team having won the 2011 Firestone Indy Lights Las Vegas finale.
This final pre-season test in Barber will feature the full 2012 Firestone Indy Lights grid, and will give Webb the opportunity to run on the 2.3-mile road course before the teams line up in anger for the second race of the 12-race calendar.
Webb continued: 'I cannot wait to get back in the car and to go racing again. It has been a long winter, and I am really looking forward to getting back behind the wheel and getting the 2012 season underway.'
The 2012 Firestone Indy Lights Championship calendar:
24 March                     Streets of St Petersburg (1.8-mile / street course)   
1 April                          Barber Motorsports Park (2.3-mile / road course)
15 April                                    Streets of Long Beach (1.968-mile / street course)
25 May                                    Indianapolis Motor Speedway (2.5-mile / oval)
2 June                         Raceway at Belle Isle Park (2.1-mile / street course)
15 June                                   The Milwaukee Mile (1.0-mile / oval)
22 June                                   Iowa Speedway (0.875-mile / oval)
7 July                           Streets of Toronto (1.755-mile / street course)
21July                          Edmonton City Centre Airport (1.973-mile / airport course)
5 August                      Streets of Trois-Rivieres, Quebec (1.521-mile / street course)
2 September                Streets of Baltimore (2.0-mile / street course)
14 September              Auto Club Speedway (2.0-mile / oval)
Webb's commitments off the track have continued over the winter, training hard in preparation for his first full season in the challenging Firestone Indy Lights series. The BRDC Superstar driver has also continued in his role as test driver for the British-built single seat supercar, the BAC Mono. Off track duties also included work with sponsors and media including a photoshoot with the clothing Store Topman. His full interview and photoshoot can be found online on – www.magazine.topman.com/issue-4/built-for-speed-ollie-webb
Webb will make his full Firestone Indy Lights championship debut at the Streets of St. Petersburg circuit in Florida on 24-25 March.
Log on to http://www.indycar.com/indylights/ for additional details about the Championship or, for information on Oliver Webb, visit http://www.oliwebbracing.com/ or follow him on twitter, www.twitter.com/oliverjameswebb.