Webb Joins Schmidt for 2012 Firestone Indy Lights Season
Posted on in Latest News
Webb Joins Schmidt for 2012 Firestone Indy Lights Season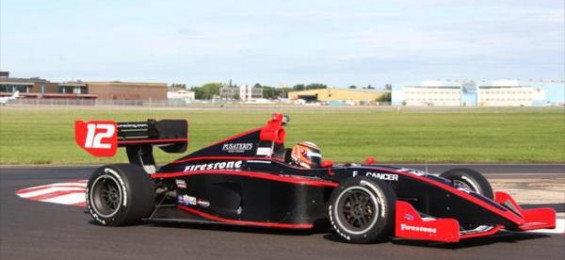 British racing driver Oliver Webb will line up on the grid in the United States for the 2012 season after signing with Sam Schmidt Motorsports to contest the 2012 Firestone Indy Lights series.
The 20-year old will drive the team sponsored car for Indianapolis-based Sam Schmidt Motorsports, who are represented in both the Firestone Indy Lights and IndyCar championships.
Webb's move to the US comes off the back of three outings in this year's Firestone Indy Lights championship, in which he showed impressive speed and talent, including a podium finish on his debut in Edmonton with Canadian team Jensen MotorSport.
Following this strong showing, Webb was then invited to take part in a two-day test in Indianapolis with the Sam Schmidt Motorsports team where he again showed competitive pace and impressed the team by running quickest for much of the tests.
Webb, a BRDC Superstar driver and member of the prestigious MSA Elite Team UK, was considering other offers for the 2012 season including GP2, and had also been in discussions with a Formula One team about possible development plans receiving a contract through with only funding being the limiting factor. Oliver is however relishing the challenge that the Indy Lights series offers. 'This is a really exciting step in my career and I am delighted to have signed with Sam Schmidt Motorsports for 2012. The decision to move to America was a big, but essentially easy, one to make. The experiences I have had in Indy Lights so far have been fantastic. I am really looking forward to the new challenges that the 2012 season will bring and I know that I will be competing with the best possible support. I am now 100% focused on racing in the US and see this opportunity as the first step towards competing in the Indy Car championship in the future' explained the 20-year old Cheshire-born racer.
He added: 'The three races and the two-day test that I completed this season were a steep learning curve, and 2012 will bring more new circuits and experiences, but I cannot wait to be back on track and it is great to have this deal in place going into the winter break. This is a real motivator for me and I can now focus solely on my fitness and be in perfect shape, mentally and physically, for the first round of the new season.'
Sam Schmidt commented "I have been waiting for this day for quite some time," Schmidt said. "I invited Oli and his father to the Toronto race in 2009 and have been trying to get him into the series ever since. He is extremely dedicated, focused and has raced in some very competitive European series. He proved he can drive an Indy Lights car when he finished third in his first outing this past season. With his four Indy Lights starts in 2011, we look for him to be at the front of the grid in St. Pete and a championship contender all season."
Webb's move to the Firestone Indy Lights series follows a competitive year in British Formula 3 with Fortec motorsport being the only other driver to lead the championship, finishing 3rd in the championship with 3wins, 15 podiums and many fastest laps. In 2011, he competed a successful rookie season in World Series by Renault with the Catalan-based PONS Racing team.
Ahead of his move to the US, Webb will attend both the BRDC and Autosport Awards, as well as appearing at the Autosport International at Birmingham's NEC in January.
For more information on Oliver Webb, visit http://www.oliwebbracing.com/ or follow him on twitter, @oliverjameswebb, www.twitter.com/oliverjameswebb <http://www.twitter.com/oliverjameswebb> .
Visit http://www.indycar.com/indylights/ for additional information on the Firestone Indy Lights series visit