Webb gears up for season finales on both sides of the Atlantic
Posted on in Latest News
Webb gears up for season finales on both sides of the Atlantic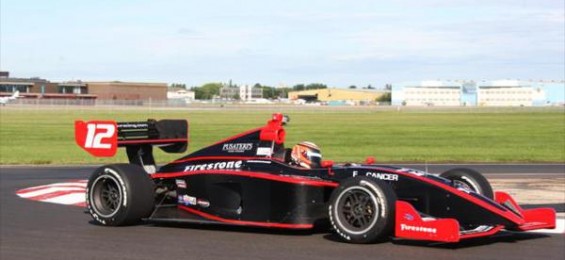 Track:                                     Circuit dé Catalunya, Spain
Track length:             4.655 km (2.892 mile)
Date:                           Friday 7 – Sunday 9 October, 2011
Track:                                     Las Vegas Motor Speedway, Nevada, USA
Track length:             2.410 km (1.500 mile)
Date:                           Friday 14 – Sunday 16 October, 2011
After scoring valuable championship points and a rookie podium on his last outing, British racing driver Oliver Webb is hoping to end a testing World Series by Renault (WSR) season on a high as he travels to the Circuit dé Catalunya, Spain this weekend for the final round. 
Returning to where he first tested the Formula Renault 3.5 racer at the beginning of the year, 20-year old Webb is looking for a strong performance at the home circuit for his Catalunya-based team, PONS Racing. Since this initial outing, Webb has endured a mixed season, with his best result coming at Silverstone in front of his home crowd.
Far from winding down for the end of the season, BRDC Superstar Webb has been working hard in preparation ahead of the weekend, and will again race alongside Nick Yelloly, who makes his third appearance in the partner PONS Racing car. With Yelloly's outing in the GP3 series earlier in the season, and the valuable test mileage Webb completed at the 4.655 km circuit, hopes are high that the team can optimise the cars' set-up, and look for a double-points finish.
Commenting ahead of the weekend, Webb explained: 'I am really looking forward to heading back to Spain for the season finale, and I hope I can end my rookie season with a strong result for the team. I think it's fair to say that there have been difficulties throughout the season, and we have made some mistakes, but we have learned from them. Looking where we were in terms of speed and performance, we have come a long way since the first test.
'Every race weekend has been a steep learning curve for us all, and I have worked with a number of different team mates throughout the season which has meant consistency has been difficult. It is great to have Nick as my team mate again, as we work well together and his experiences are really beneficial to both me and the team.'
In addition to preparing for his final WSR outing of the 2011 season, Webb has been busy with activities in the United States where he has already made a strong impression in two rounds of the Firestone Indy Lights championship, and will return to action for the season's finale in Las Vegas.
Following his last outing on the streets of Baltimore, MSA Elite driver Webb has now had his first experience of oval track racing. Webb excelled in only his third experience in an Indy Lights car at the famous Kentucky Speedway, testing at speeds in excess of 200 mph and obtained his oval racing licence at the first attempt. 
'Testing on an oval circuit was a real eye-opener!  It is much more demanding than I ever imagined but it is great to be able to learn a new skill and get some extra experience behind the wheel ahead of what is sure to be a fantastic race in Las Vegas. The speeds involved are amazing, and I just cannot wait to get back in the car now!' he explained.
In honour of the venue, the Cheshire-born star will line up with ExpoSystems Team Jensen over the weekend 14-16 October in a Las Vegas-themed racesuit and boots, complete with roulette wheel and dice designs, specially designed by Freem Racewear.
For more information on Oliver Webb, and to track his progress throughout the season, visit http://www.oliwebbracing.com/ or follow him on Twitter, www.twitter.com/oliverjameswebb.