Webb geared up for the opening round of WSR
Posted on in Latest News
Webb geared up for the opening round of World Series by Renault season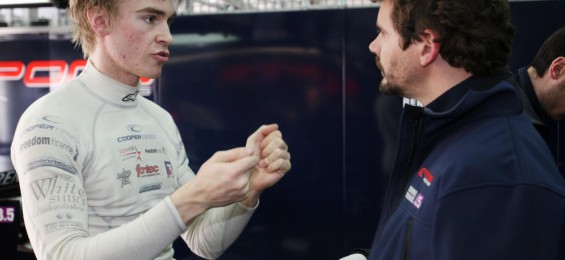 Track:                                     Motorland Aragón circuit
Track length:             5.344 km (3.321 mile)
Date:                           Friday 15 – Sunday 17 April, 2011
British racing driver Oliver Webb makes his World Series by Renault debut this weekend, 15-17 April, as the series gets underway at Spain's Motorland Aragón circuit. 
After competing in the 2010 British Formula 3 International Series, finishing third in the overall standings, Webb will line up for the Catalan PONS Racing team as one of only two British drivers in the 2011 World Series by Renault (WSR) championship. 
Although one of the youngest drivers contesting the championship, the 19-year old from Knutsford returns to the Motorland Aragón circuit feeling confident on the back of a strong pre-season testing programme.  Each of these tests saw Webb post consistently competitive lap times, topping the timesheets during one session when the team visited the Spanish track back in March.
Commenting ahead of the season's opening round, Webb explained: 'I have been really focussed on my fitness levels over the winter break, with an extensive regime to get myself prepared for what will be the biggest challenge of my career to date, and one that I am relishing.  The field looks strong, especially the Ferrari, Lotus and Red Bull-backed drivers, but we have shown some real pace in pre-season testing so I'm looking forward to the challenge.  The PONS Racing team have made me feel really welcome since I joined them at the beginning of the year, and I feel confident we can continue to develop the car throughout the season.  I can't wait to get back out on track now!'
Webb starts his rookie season in the highly competitive WSR championship with the backing of two new sponsors: Italian-based race clothing firm Freem, and Chill Wear, specialists in cool suits and hydration products for athletes.
A member of the prestigious MSA Team UK, Webb will wear a range of race clothing provided by Freem throughout his 2011 campaign.  Having had no previous backing by a race clothing manufacturer, Webb hopes to create a strong relationship with the brand and carry this through his career.  Webb commented: 'Having a good quality suit, boots and gloves made to measure by Freem makes a real difference to being comfortable in the car and, in turn, performance.  I'm very pleased to have this established the link with such a strong brand'.
Chill Wear is a fitness brand that supplies cool suits and hydration products for athletes and fitness enthusiasts. The Cheshire-based driver already trains with the Porsche Human Performance Centre at Silverstone who are linked to Chill Wear.  The team will work with Webb to improve his fitness and aid him at the races this year, who explained 'With most of my races this year in hot countries such as Monaco, Italy and Spain with temperatures of between 20-30 degrees, I'm thrilled to have this strong connection with both Chill Wear and the Porsche Human Performance Centre.   I hope to not only improve my fitness but have the best equipment at hand when times get tough during the race weekends.'
A spokesperson for Chill Wear added: 'Chill Wear is proud to support Oliver, one of the UK's most promising young drivers, in his race preparations for 2011. We are specialists in providing drivers with pre-cooling products to lower core body temperature prior to racing in hot environments. The aim of pre-cooling the body is to increase a driver's thermal reserve and lower their hydration requirements by up to 20 per cent.'