Webb debuts on the world famous streets of Monaco
Posted on in Latest News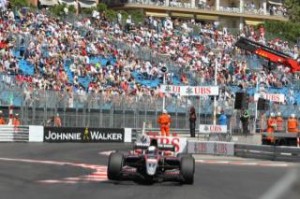 Webb debuts on the world famous streets of Monaco
Track:                          Circuit de Monaco, Monaco
Track length:                         3.340 km (2.075 mile)
Date:                           Friday 27 April – Sunday 29 May, 2011
Race 1:                       30 laps
Qualifying:                   Pos: 24; Time: 1m28.824s + 2.397s
Result:                         Pos: DNF
British rookie Oliver Webb made his debut at one of motorsport's most prestigious race events of the season, racing in the seventh race of the 2011 World Series by Renault season in front of the Formula One crowds ahead of the Monaco Grand Prix this weekend. Despite making a strong start to the weekend, Webb was forced to retire from his first experience of the legendary street circuit.
Saturday morning's qualifying session saw the 26-car grid split into two separate groups to minimise congestion on track. Having completed extensive simulator work in the UK ahead of the race weekend, and keen to build on the improvements from the last outing in Monza, Webb and the PONS Racing team were looking to capitalise during qualifying on a track which offers limited overtaking opportunities.
Making his track debut in the world-famous Principality, Webb showed early promise during qualifying, with a series of competitive lap times in the opening minutes. However, while pushing hard around the tight and unforgiving Monte Carlo streets, a slow puncture and excessive oversteer caused the 19-year old to touch a wall, bringing his qualifying session to a premature end. At this stage, Webb had posted the fourth-quickest time, but by the end of the session he had slipped to 12th in his group, and 24th overall.
The Superstar BRDC driver made a strong start to the race, making up a number of places on his way to Turn 1, Sainte Devote, which was successfully negotiated by all 26 drivers. From here, Webb posted consistently competitive lap times but struggled with overheating brakes as he made his way around the 3.34 kilometre circuit.
Following a brief safety car period due to an earlier incident, Webb locked a wheel under braking going into Sainte Devote on the restart, but avoided hitting the barriers and came to a halt in the run-off area. Webb was able to rejoin the track, however nearly a lap down, but his luck didn't improve. As the leaders came through on lap 20, Alexander Rossi's rear tyre made contact with Webb's front wing as he was running off-line, through the marbles, up the hill to Massenet. This put Rossi into a high-speed spin into the barriers, and punctured Webb's tyre.
Webb was able to limp back to the pitlane, but the damage sustained meant he was unable to rejoin the race.
Commenting on his weekend's performance, the MSA Elite driver explained: 'Overall, it was a frustrating weekend in the car, but I really feel like we have made some important developments and we are feeling really positive going forward. It has been such an incredible experience, and I really cannot wait to get back in the car at the Nürburgring.'
Discussing his first experiences around Monaco, Webb continued: 'Monaco is considered motorsport's 'jewel in the crown', and it has been incredible to be here soaking up the atmosphere and experiencing everything. Every driver who has raced here lists Monaco as one of their favourite circuits, and I can now see why – it really is unlike any other race event that I have ever been a part of.
'There are so many influential people here, and it has also been a great networking opportunity to help me build my career in motorsport. Being able to perform in front of the F1 teams has further encouraged me towards achieving my goal of competing at the top level of motorsport.'
Webb's rookie World Series by Renault season continues in three weeks as the championship visits the Nürburgring, Germany for Round Five on 18-19 June.