Webb claims a podium finish on Indy Lights debut
Posted on in Latest News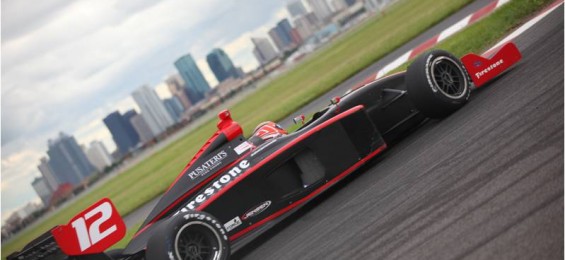 25 July 2011
Webb claims a podium finish on Indy Lights debut
Track:                           Edmonton, Canada
Track length:                3.579 km (2.224 mile)
Date:                            Friday 22 – Sunday 24 July, 2011
Race 1:                         36 laps
Result:                          Pos: 3; +0m07.048s
Race 2:                         40 laps            
Result:                          Pos: 5; +0m26.152s
Briton Oliver Webb finished on the podium as he made a successful debut in the Indy Lights championship with Jenson MotorSport this weekend, claiming third and fifth in Edmonton, Canada.
The 19-year old Knutsford-born driver, who is competing in World Series by Renault this season, showed strong potential throughout the weekend on the Edmonton airfield street circuit-style course, ending the first practise in fourth.  However, the cooler track conditions during qualifying meant Webb was unable to get the best out his tyres and would line-up for his first competitive Indy Lights outing in 10th place.
Race 1 was Webb's first experience of a rolling start and, despite strong pressure from more experienced drivers behind, showed his race craft early on as he moved forward two places.  As he continued his first lap charge, lining up around the outside of 7th place going in to the Turn 3 hairpin, two cars collided forcing Webb wide and on to the grass, losing a place.  Superstar BRDC driver Webb swiftly regained this lost position before a full course yellow closed the field up, meaning a single-file restart.
On the restart, Webb immediately made up a place and set about chasing down 6th position over the course of the next few laps. As the two cars ahead battled for track position, Webb closed in and was able to pass them both as the lead driver misjudged his braking point and locked a wheel.
Shortly after this bold move, another full course yellow closed the field back up and ensured some close racing in the final stages of the 36 lap race.  On the restart, Webb comfortably held 5th position, and remained here until the two cars ahead of him collided as they battled for 3rd.  MSA Elite driver Webb managed to avoid contact, and went on to record a podium finish from his first Indy Lights start.
Webb started Race 2 from 5th on the grid, looking to build on his strong debut performance, but slight contact shortly after the start, and then a missed gear change saw him drop four places before the first corner.  Despite this early setback, Webb battled his way back up to 7th within two laps as he became more comfortable with the car.
A difference in set up meant that Webb was much quicker than the cars in front on the more technical, infield section of the 2.224 mile track, but top speed was compromised on the long straights.  Gradually, Webb made up ground and eventually made the extra wing work to his advantage as he moved up to 6th. 
Feeling increasingly confident with the setup of the car, Webb then set about closing the gap of nearly 11-seconds to the car in front and, with just two laps to go, he caught and passed Anders Krohn to claim a hard-fought 5th position.
Commenting on his successful Indy Lights debut, Webb explained: 'What a fantastic weekend!  The cars and the rules of the championship are different to what I have experienced before so there has been a lot to learn, but I'd like to say a big thank you to Jenson MotorSport who have given me a fantastic level of support throughout the entire weekend.  Everyone has worked really hard to ensure the car was so competitive and I'm really pleased that I was able to achieve a podium finish on my debut.'
Webb will return to the tracks of Europe next month to continue his rookie World Series by Renault season as the championship visits Silverstone, England for Round Seven, 20-21 August.
For more information on Oliver Webb, and to track his progress throughout the season, visit http://www.oliwebbracing.com/ or follow him on twitter, www.twitter.com/oliverjameswebb