Webb and the BRDC invite inspirational youngsters to Silverstone
Posted on in Latest News
Webb and the BRDC invite inspirational youngsters to Silverstone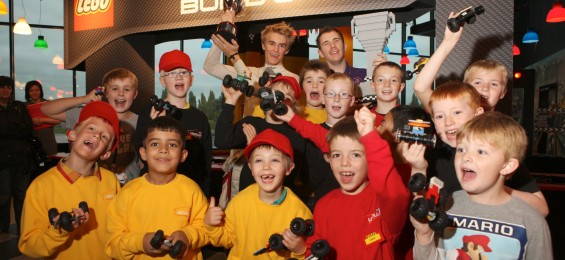 In addition to preparing for his home round of the World Series by Renault (WSR) at Silverstone later this month, British racing driver Oliver Webb is looking forward to welcoming a number of special guests who have been invited to spend a day with the BRDC Superstar.
The list of special guests includes inspirational youngsters Webb has met through his involvement with the charities, Starlight Children's Foundation and Caudwell Children.  They will be joined by a lucky group of competition winners from top boys' vehicle brand Hot Wheels who have partnered with the British Racing Drivers' Club (BRDC) for the events at Silverstone, as they look to give fans a peek at what life is really like for a motor racing driver.
The guests will have the opportunity to experience first-hand the buzz ahead of the World Series by Renault race with a grid walk on the legendary track.  They will then be invited into the prestigious BRDC Clubhouse, part of the impressive new Silverstone Wing pit and paddock complex, to watch Webb line up in his PONS Racing Formula Renault 3.5 racer.
Webb's first involvement with Starlight Children's Foundation was during a charity track day organised by the BRDC and, after spending a day with the inspirational group of youngsters, 20-year old Webb was so moved that he contacted Starlight to offer a group of the children supported by the charity, along with their families, the full VIP treatment at Silverstone as guests of the British Racing Drivers' Club (BRDC). 
MSA Elite driver Webb has also been working closely with Caudwell Children to help raise money and awareness of the charity.  He has been keen to get involved with the group as much as possible, so a group of children who are supported by the outfit will spend the day at Silverstone as Webb looks to score more important championship points in front of his home crowd in his rookie WSR season.
As part of his continued involvement with Caudwell Children, Oli will be keeping up his fitness and practicing his race-craft later this year as he takes part in the inaugural Caudwell Karting Cup.  The two and a half hour race is open to all and takes place on 20 November at the all new Raceway Karting circuit in Birmingham, which boasts the largest elevated track section in the country.
Webb's final group of special guests won the chance to spend the day at Silverstone with Hot Wheels.  Working in partnership with the BRDC, who support up-and-coming, young British racing drivers, Hot Wheels wanted to highlight a small part of what a racing driver's life is really like as well as give the opportunity for fans to get close to the action on track.
Webb's home race in World Series by Renault takes place at the famous Silverstone circuit over the weekend, 20-21 August where he will be hoping to replicate the success of his last track outing – an impressive podium on his Indy Lights debut in Edmonton, Canada.