Strong start for Webb at Rolex 24
Posted on in Latest News
Webb has strong start to Rolex 24
DAYTONA BEACH, Fla. (January 23, 2014) – Following a strong day of practice, OAK Racing's No. 42 machine has qualified 23rd for the Rolex 24 at Daytona. Leading that qualifying effort was Frenchman, Olivier Pla, who was quickest out of the LMP2 cars in practice however an engine problem in Qualifying led to a disappointing result.
Englishman Oliver Webb joins the team's four-car lineup, which includes Pla, Roman Rusinov and Gustavo Yacaman.
"It has been great working with these teammates," said Webb. "Olivier is a factory driver for OAK Racing and has won the Le Mans Championship and the FIA World Endurance Championship for LMP2 drivers and LMP2 team with them. I had never met Roman before, but he was very quick right away. I have driven with Gustavo before in Indy Lights, so it is great working with him again. I think we have a chance to do very well in the race, especially out of the LMP2 cars, which I think we can win. We are going to have a very reliable car."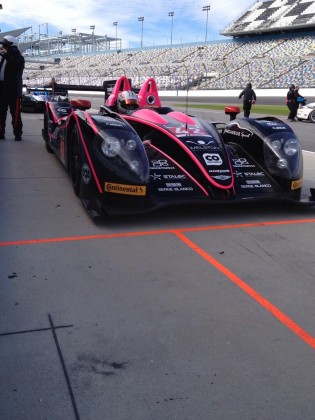 Having previous experience in single-seater racing, Webb feels he has adjusted well to the LMP2 car. He ran as high as 5th in today's evening session.
"The first practice session was mainly about me getting used to the car and the track," added Webb. "It is a chassis I have never driven before and a track I've never been to, so we were staying under the 150 percent rule. That basically means you have to do under a 1:50.000 to qualify for the race and I did roughly a 1:44.000, just to get used to the car and keep it safe."
During qualifying, the No. 42 car suffered from a loose connector, so it was running on four cylinders instead of five. However, the team was able to make the repair for the final practice session of the day. There are many variables that will come into play during the 24 hour endurance race on Saturday and Sunday. Webb also knows that there is immense talent throughout the field.
"There are many talented drivers racing here this weekend. There are a couple guys from every championship in Europe and America it seems. It is really neat to be racing against these guys. To do this race, especially in this beast, is a real honor. I think the pace car is going to play a role in the race, once the caution flag comes out. If you time your safety car right and you're in the right place at the right time, I think you can make up a lot of time."
When the green flag falls on Saturday, it will mark the debut of the Tudor United SportsCar Championship, which is the result of combining the Grand-Am Series and American Le Mans Series. With 67 total entries throughout four different classes, there will be a great deal to watch for during the race.
For more information, visit www.oliwebbracing.com and www.oak-racing.com