Starlight races ahead with British driver Oli Webb
Posted on in Latest News
Starlight races ahead with British driver Oli Webb
Charity event raises £10,000 to grant the wishes of seriously ill children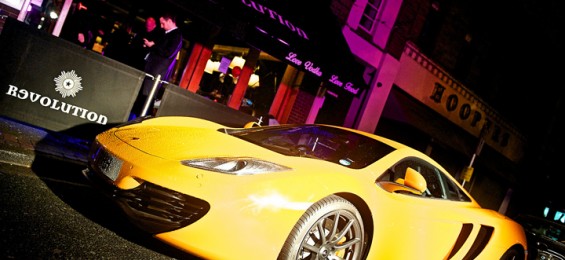 On Wednesday 7th September, British racing driver Oli Webb celebrated his recent successes on the track with a star-studded party at Vodka Revolution in Wilmslow in aid of Starlight Children's Foundation, which is a national charity that brightens the lives of poorly children.
With the BAC- Mono that Oli test drives parked outside as well as the new Mclaren MP4 12C and 1967 Shelby Mustang GT500 and a host of glamorous girls in Formula 1™ chequered flag outfits, it was clear that the party was going to have a strong motor sports theme but this didn't stop well known faces from the worlds of television and football from joining the young racing driver to support his chosen charity. 
The guests, which included Manchester City goalkeeper Shea Given and his wife Jane, ex premiership footballer Ashley Ward and wife Dawn and television legend Denise Welch, were treated to cocktails and canapés and a charity auction with fabulous prizes in aid of Starlight. 
During the evening, they also enjoyed to a spellbinding performance from Ashley and Dawn Ward's eldest daughter Darby, music from a live band and mesmerising demonstrations from two contortionists. 
The event, which was supported by Oli's sponsors Bacardi and Rookie Clothing and the Revolution team, raised £10,000 for Starlight and the money raised will help the charity grant the once-in-a-lifetime wishes of seriously and terminally ill children and provide entertainment in hospitals and hospices across the UK. 
Neil Swan, Chief Executive of Starlight Children's Foundation, said, "Each year, Starlight brings smiles to over half a million poorly children and, with the generous support of Oli, his sponsors and his guests, we will be able to help many more children escape the pain and fear that they can feel as a result of their illness.  We are immensely grateful for Oli's continued contribution to Starlight."
Oli Webb, said, "With the help of the BRDC, I recently invited some of Starlight's children to see me race at Silverstone and I was struck by how incredibly brave and determined they were in spite of the challenges that they face each day.  As a racing professional, I am getting to live my dream and I am so pleased that, through my involvement with Starlight, I am helping to make the dreams of some really deserving kids come true."
Starlight grants once-in-a-lifetime wishes for seriously and terminally ill children, restoring the magic and fun of childhood and giving the whole family happy memories to share.
Starlight also creates entertainment in every hospital and hospice throughout the UK. Sick children go to Starlight parties, laugh their way through pantomimes, go out on Starlight Escapes, play games and watch films on the Starlight Fun Centre, and enjoy the toys and puzzles of the Starlight Distraction Box.  Happy children respond better to treatment and Starlight helps children to forget about their illness and simply have a bit of fun.
To refer a brave child or to make a donation, simply log on to www.starlight.org.uk or call 020 7262 2881.  For every £1 you donate, over 91p goes towards helping Starlight's very ill children.
For press enquiries please contact Henny Breakwell on 020 7262 2881 or email henny@starlight.org.uk.