Queers 4 Gears Interview Oliver Webb!
Posted on in Latest News
Meet Oliver James Webb, driver of the #7 for Sam Schmidt Motorsport for the 2012 Firestone Indy Lights Season.
1.)  You finished 7th in your first full season in Indy Lights.  How do you feel about your season?
I feel the pre season testing went really well being in the top 2 every time we went out on track. I certainly learned a great deal having never done ovals and having never seen any of the tracks apart from Edmonton. We had a pole at Detroit which was SSM's 50th pole which was an honour to get.
2.) What was the toughest track to learn for you?
The Indianapolis Motor Speedway was a tough track to crack but I absolutely loved driving it. I'd say my weakness lied in the short ovals which my qualifying was not good enough.
3.) Which track was the most fun for you?
Driving round IMS for the first time was a feeling that will never be topped until I win the Indy500. It was just amazing!!
4.) What is one the one track you wish Indy Lights raced at?
I wished we did laguna Seca!!
5.) It seems a lot of Indy Lights drivers all get along and hang out outside of the track.  Which drivers do you hang with?
I got along really well with my team mates and actually just off to Texas now for the F1 and I get to see my buddy Tristan Vautier.
6.) Does that make it easier or more difficult when there is conflict on the track?
No difference, once the helmet is on racing is racing, team mate or no team mate. The only reason it can be more tense is due to how much more time you will have to spend near the person after!
7.) Who do you consider to be the most aggressive driver in Indy Lights?
I wouldn't be able to point it out, different driving styles on ovals and street courses for different drivers make it hard to say.
8.) Have you had any "groupies" yet?
Well I wouldn't say Groupies really but some cool interested fans yes certainly ! The USA has such a great following in motorsport and it was fantastic to feel that throughout the year.
9.) It's early, but how are the plans for 2013 coming along?
We will see, I would love to be back on the Firestone Indy Lights Grid.
10.) What's the most embarrassing thing that has happened to you at the track?
Probably leaving an autograph session acting 'all cool' and then dropping my newly painted helmet and watching it roll down the paddock as the crowd of fans parted!
11.) The Indy Lights series is supposed to get a new car for the 2014 season.  What would be your suggestions to those working on designing the new cars?
I would say more downforce, enclosed wheels, more power, paddle shift, flat shift and more adjustments within the car.
12.) What's the strangest thing you've been asked to autograph?
Someones…anatomy!
13.) Own up to it, did you ever own a Spice Girls album?
Maybe a single…
Ok, time for the lightening round:
– Worst song ever recorded?
'Friday' – Rebecca Black
– Keep Calm and…
'Leave me alone I know what I'm doing' Kimi Riakonnen 2012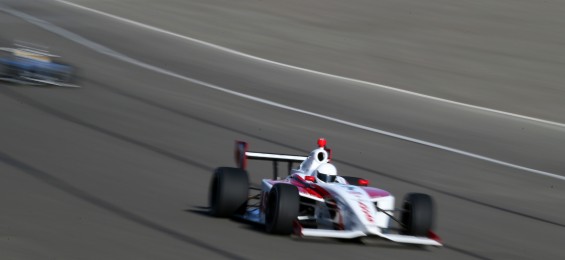 – Boxers or briefs?
Boxers
– iPhone or Android?
iPhone
– Pizza Hut or Dominos?
Dominos
– Dream car?
1967 Shelby Mustang GT500 – got it 
– Favorite vacation spot?
Maldives
– Britney Spears best song is…
The one where she doesn't open her mouth [RB:  How dare you!  Britney is an angel from heaven! 
 ]
– Favorite movie?
Shawshank redemption
– Justin Bieber looks like…
A pretty talented guy to be fair!
– Worst car you've ever driven?
Nissan Micra!
– Worst racecar you've ever driven?
Everycar I don't win in! Haha (joking!)
– People should not wear Abercrombie and Fitch clothes if they are over the age of…
Your as young as you feel, in the case of my dad…18!
You can follow Oliver on Twitter @oliverjameswebb