Oliver Webb Visits Project Cars
Posted on in Latest News
Following his class podium finish at the Dubai 24 Hours last weekend, Oli Webb returned to the Slightly Mad Studios headquaters to complete first test-recordings for Project CARS' pit-2-car radio feature.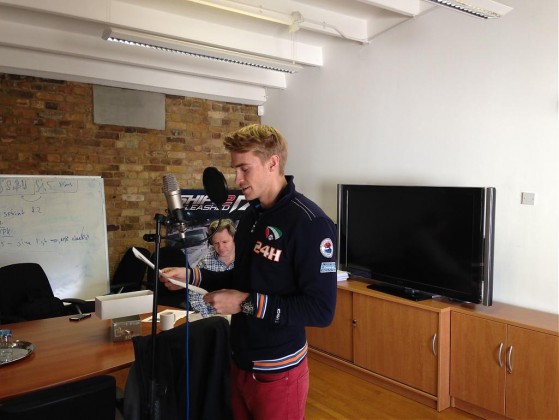 Project CARS players will enjoy guidance from a professional race car driver as Oli is not just providing his voice for the radio sequences but will also make sure that the dialogue uses the exact same language common among race car drivers and engineers.
Oli also brought a little souvenir to the offices, showing off his Project CARS-themed gloves that he wore during the Dubai 24 Hours race. Next week, the British driver is off to the next twice around the clock classic, fighiting for overall honors at the Rolex 24 Daytona in an OAK Racing LMP2 car.
Project CARS will be available for the PC, PlayStation 4, Xbox One, Steam OS, and Wii U starting Fall 2014. More info can be found on the WMD website.