OLI WEBB DRIVES AN UBER, WITH A DIFFERENCE
Posted on in Latest News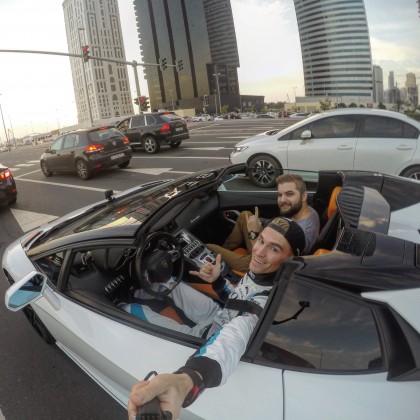 Top racing driver Oli Webb partners with GoPro and Uber Dubai to drive an Uber, with a difference
Oli Webb caused a stir in Dubai hot spots yesterday in the lead up to this weekends 24H race at the Dubai Autodrome.  Uber customers were alerted to a special "Supercar" option in the App.  By entering a promo code they unlocked an Uber ride like no other as British racing driver Oli Webb appeared in full race gear and a 6.5L, 690HP, V12 Lamborghini Aventador.  Passengers were then treated to a cruise around Dubai Marina, JBR, Emirates Hills and the iconic Palm Jumeirah.
The event was widely shared with Twitter users posting about their experience.  The surprised passengers were filmed on GoPro cameras rigged around the supercar and the reactions will be edited into a video to be released over the coming days.
The stunt was part of a campaign to build awareness of Oli's participation of the Dubai 24H Race, an event he won last year.  The race follows a third place finish in last weekends Asian Le Mans Series round in Thailand.
"We were really excited to work with Oli and bring this amazing and unique experience to our riders in Dubai. Having the Dubai 24 Hour race champion representing Uber was awesome and we wish Oli the best of luck defending his crown this weekend!" – Chris Free, General Manager, Uber UAE
"I had a great time surprising the people of Dubai. It's not everyday you jump on your Uber App to find a supercar picking you up so it was amazing to see the reactions on the faces of the people I collected. I can't wait to see the final video. Thank you to both GoPro and Uber for their support and my attention now moves to this weekend where I hope to win at the Dubai Autodrome." – Oli Webb
https://www.oliwebbracing.com/
https://www.uber.com/cities/dubai