Drama turns to success for Webb and Fortec in the Total 24 Hours of Spa
Posted on in Latest News
Drama turns to success for Webb and Fortec in the Total 24 Hours of Spa
Continuing on from their successful maiden GT season, Fortec Motorsports fielded their Mercedes AMG SLS GT3 in this year's Total 24 Hours of Spa. The team of Oliver Webb, Alex Brundle and Karl Wendlinger impressed the crowd of over 60,000 spectators and after 24 hours brought the car home in 27th; despite a number of incidents that saw the car almost head into retirement.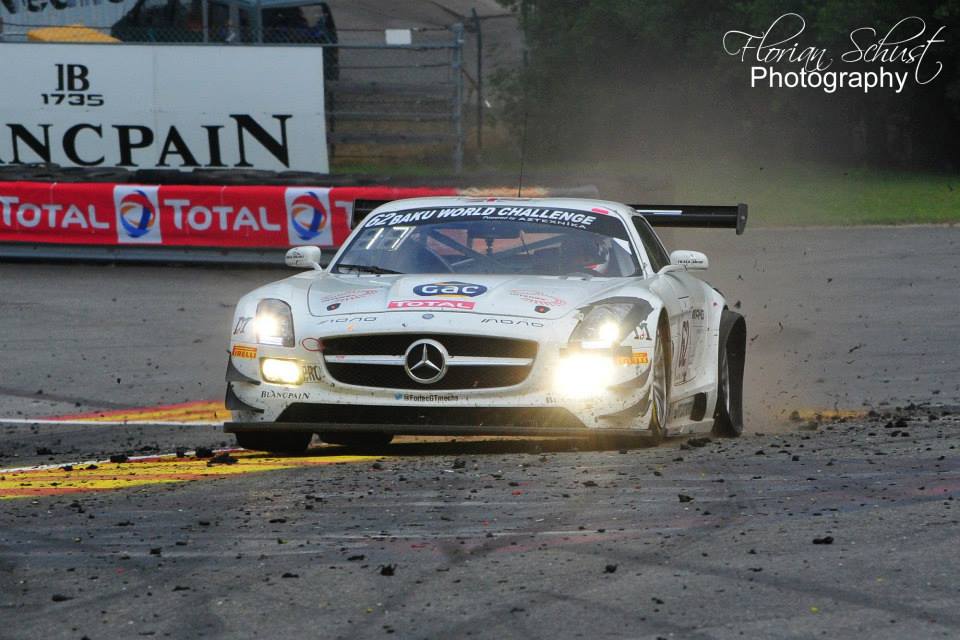 Formula Renault 3.5 hotshot Webb was first up behind the wheel and from the offset showed his skill as he worked his way through the 65 strong grid, making it safely round the all important first lap. Webb was soon on the charge, staying out of trouble and maintaining a strong pace, handing over the wheel in twentieth to Wendlinger.
After a quick pit-­‐stop, current Mercedes AMG factory driver Wendlinger re-­‐ entered the race in twenty-­‐third. The Austrian demonstrated his wealth of experience and after a 2-­‐hour stint seamlessly handed over to Brundle.
Current FIA World Endurance Championship racer Brundle got off to a flying first stint; however just as he looked to be on the charge the Mercedes SMG SLS stopped out on track. Brundle reported problems with the gearbox and after taking a while to recover the car the Mercedes was taken back to the garage where it was found to have a broken input shaft. The Fortec mechanics worked tirelessly to change the gearbox and despite rumors of retirement the Mercedes was back out on track just under a couple of hours later.
"Clearly the gearbox failure (input shaft) cost us a result in the race and massive time. These things happen and it was unfortunate but the team did a good job to fix the issue and get us back out on track," said Brundle.
Through the night the trio continued to gain pace and were still going strong into the early hours. After numerous other problems, including trouble with the ABS and a puncture, Webb drove the Mercedes home in 27th – a fantastic result for the team who had worked solidly to ensure the car finished the race.
Commenting after the race Webb said: "To finish the Spa 24 hours was a great effort for the team in their first ever 24hour experience. With over half the grid not being able to make it to the end, it was fantastic to see the Fortec crew work hard for hours while the car sat in the garage, after mechanical problems. It felt
amazing to drive the SLS at night for the first time and I'm happy with the pace I had for my first ever Spa 24″
Trevor Foster, Team Manager added: "It was mixed emotions at the end of the Spa 24 hour race -­‐ the pride that the team made it to the finish in their first ever 24 hour event, and the huge disappointment that the gearbox failure cost us a top-­‐10 finish. After not getting the most out of the qualifying session, our race pace was strong. However although we lost a little time in the pits, with a puncture which required bodywork repairs and the failure of an ABS sensor which required Oli Webb to drive two stints without ABS and traction control, the team and drivers never gave up -­‐ which is the true spirit of endurance racing. The team has gained a significant amount of knowledge and we intend to be back next year."