ALL IN A DAY'S WORK: CAR FIRES AND RECORD BREAKERS AT DUBAI 24HRS 2016
Posted on in Latest News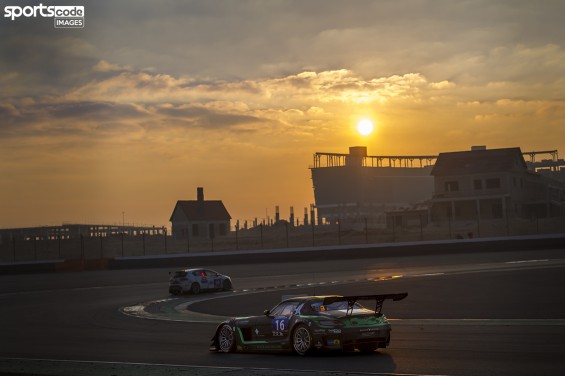 It's been a busy start to 2016. Oli headed to Dubai fresh from a podium finish in the European Le Mans Series in Thailand.
The event started under normal circumstances with testing in the Black Falcon Mercedes SLS GT3 machine. Oli sat out the first session to allow his teammates to learn the car and the challenging Dubai track. Day 2 of testing Oli got behind the wheel, already familiar with the circuit and car following his Dubai 24H victory last year. After putting in a couple of timed laps he handed over to Adam Christodoulou and then Patrick Assenheimer. Just an hour into the session the number 16 Mercedes suffered a catastrophic fire. Assenheimer climbed to safety and was taken to the Medical Centre but thankfully escaped major injury, although would play no further part in the race. The car was reduced to ash and the weekend looked all but over as Oli and the team sat out qualifying. However, salvation came in the form of Abdulaziz al Faisal who offered an older showcar that was gratefully accepted. After building the car from the ground up and putting in a new gearbox the team finished piecing it together at 6am, just a few hours before the morning warm up session on race day. With no time to bed-in the new parts Team Black Falcon put their #16 car out onto the grid in dead last of the 98 cars that started the race.
Incredibly Christodoulou passed 23 cars on the very first lap and an hour later brought the Mercedes into pit lane in P26. Oli strapped in and continued the astonishing come back to pit in 4th place. 2 hours in and 94 places gained.
From there it was about catching and passing the much newer, faster cars. With almost 600 laps complete and 24 hours of dazzling driving, the team brought the car home in 2nd place. This achievement cannot be underestimated and provided the 11th running of the Dubai 24 Hour with a miraculous feel good story!
This continued Oli's strong start to the season and was his 3rdconsecutive podium in Dubai and his 2nd in 2 weeks. Next up is Malaysia for the final round of the Asian Le Mans Series where Oli returns to the Race Performance Team in the Oreca 03 LMP2 car with a chance of a Championship title to top off a demanding start to 2016.
"This really was a memorable weekend, I don't think we'll ever have another race like this. After Patrick's fire we really thought our weekend was over so we're really grateful for Abdulaziz for stepping in and providing another car. We all wanted to do well for Patrick but realistically a podium seemed a step too far. Finishing P2 from the back of such a massive grid was an amazing feeling. Patrick has some nasty burns but is ok and this one was definitely for him."
https://www.oliwebbracing.com/ http://www.black-falcon.de/ http://www.24hseries.com/live