2012 Season Review
Posted on in Latest News
I came into the 2012 Firestone Indy Lights season with Sam Schmidt Motorsports hoping to get a win and finish in the top-three in the championship.
My first three finishes with the team were fourth in St. Petersburg, 13th in Barber and sixth in Long Beach. Then we had a bit of a break before going into the first oval of the season, which was the Freedom 100 at the Indianapolis Motor Speedway.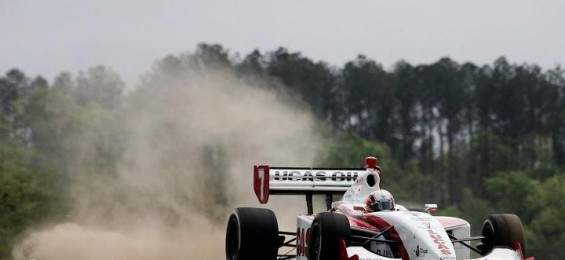 The first lap I turned at IMS is a moment I will treasure forever and hopefully get to repeat again in the future. Racing through that concrete jungle at nearly 200 mph where legends have won and lost is an incredible feeling. I remember speaking with my teammate Tristan Vautier when we got out of the cars after our first stint on-track, and we were just like two kids in a candy store. We ended up getting scolded by our team for ignoring our radios and staying out for a few too many laps because we were having so much fun.
Unfortunately the Freedom 100 ended up being one of the low points of my season. I started in the back of the pack with my teammate Esteban Guerrieri due to an engine change. Esteban and I managed to clear half of the field in only three laps before I ran into trouble. My race ended with a heavy high speed hit. Due to the crash damage I wasn't able to get back in my primary car until the season finale in Fontana.
In our next race at Belle Isle however, we really bounced back. I got pole for the Detroit Grand Prix, which also happened to be the 50th pole for Sam Schmidt Motorsports in Firestone Indy Lights. It was a moment that I'm very proud of, although I was a little disappointed not to be able to convert that into the 50th Firestone Indy Lights win for the team. I ended up third, which was my first podium in the season and my second in the series.
From there, I had 12th place finishes at Milwaukee and Iowa. Iowa was difficult. My crew and I struggled all weekend to find the right set-up for the car. With only two laps left in the race I was trying to make room for my teammate Victor Carbone to get around me when I slid into the wall.
Next up on the 2012 schedule was three rounds of Canadian races in Toronto, Edmonton and Trois-Rivieres. I really enjoyed getting to know Toronto, which is my favorite city in North America aside from Chicago. I finished fifth at Toronto and Edmonton, and eighth in Trois-Rivieres.
One thing that really sticks out from Edmonton was learning how to curl (yes, the sport) with other Lights drivers. Things got very competitive between me, Peter Dempsey and a Frenchie Croissant that most people may know as Tristan Vautier. We left with several bruises from slipping and sliding on the ice, but were still able to get our jobs done in the cars the next day.
I wrapped my first full season in Firestone Indy Lights with a sixth place finish in Baltimore and an eighth in Fontana.
Aside from learning a ton about racing in 2012, I also learned that Americans are actually pretty cool, champagne tastes great on the podium, that Indianapolis is REALLY hot in the summer and that concrete walls are hard.
Traveling so much led to quite a few adventures. Before this season I had never had a problem on an aircraft before, but I had a few traveling nightmares this year. One of my flights at the beginning of the year made an emergency landing due to smoke coming from the back of the plane. On another flight the passenger sitting next to me looked out the window and pointed out that part of the wing was hanging off of the plane. We sat on the runway for the next 45 minutes watching the crew rip off the piece of wing. They then gave a thumbs up and off we flew like everything was normal!
Looking to the 2013 race season, I would like to sign on for another year in Firestone Indy Lights and collect race wins and ultimately the championship.
During the off-season I work for a few car magazines and film companies back home in the United Kingdom. I also do testing, development and driver coaching for a few car firms in the UK. I'll also continue training, so managing to get a day off before Christmas would be great!